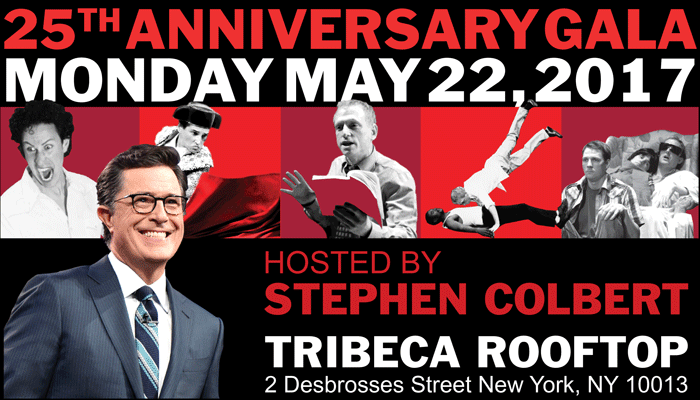 JOIN ELEVATOR REPAIR SERVICE AS WE CELEBRATE TWENTY-FIVE YEARS OF MAKING THEATER
6:30 
Rooftop cocktails

7:30 
Dinner
Stephen Colbert hosts presentation by Elevator Repair Service
Live auction
9:30 
Dancing with The Vintage DJ


The evening begins with cocktails and hors d'oeuvres on the roof overlooking the Hudson River at sunset. A delectable dinner is served while guests enjoy a tribute show, hosted by Stephen Colbert, and featuring legions of ERS artists and special guests. A brief live auction will feature one-of-a-kind experiential packages. The Vintage DJ will get the dance party started, spinning original vinyl from the 1920s to the 1970s. Dress festively!
Honorary Committee

Laurie & Oskar Eustis
Greta Gerwig
Maggie Gyllenhaal & Peter Sarsgaard
Debra Monk
Lili Taylor
Maura Tierney

Host Committee

Robin & Arthur Aufses
Erin Courtney & Scott Adkins
Jennifer Egan & David Herskovits
Julie Hall-Houston & Scott Houston
James Hannaham
Janet & Mike Iveson, Sr.
Clea Lewis & Peter Ackerman
Diane Compagno Miller
Sarah Paley & Bob Kerrey
Zoe E. Rotter
Greig Sargeant
Freddie & Vin Scelsa

Gala Sponsors

Silver
Steve Bodow & Katherine Profeta
Doug Curtis
David Gilbert
Mindy Goldberg
Lee & Fritz Michel
Nicholas Quinn Rosenkranz
Bill Stasiulatis & Carolina Saez
Anne Stringfield & Steve Martin

Bronze
Kay & Tom Darby
Jackie & Harry Moses
Robert A. Wilson, Jr.


List in formation as of 3/20/2017

TABLES
Platinum – $25,000
Gold – $15,000
Silver – $10,000
Bronze – $5,000
INDIVIDUAL TICKETS
Angel – $2,000
Patron – $1,250
Friend – $500
Artist Sponsor – $185
Unable to attend? Please consider making a donation.


A brief live auction with auctioneer Stephanie Landess will feature packages unique to ERS, ranging from insider theater experiences to an Italian vacation. More information coming soon.
| | |
| --- | --- |
| Stephen Colbert is best known as the host, writer and executive producer of The Late Show with Stephen Colbert on CBS. His long-running Emmy® and Peabody® Award-winning series "The Colbert Report" aired on Comedy Central from 2005 to 2014 and was nominated for 40 Emmys, winning a total of 6. The show was also twice honored with the prestigious Peabody® Award for Excellence in Broadcasting. | |
| Stephanie Landess has served as Auctioneer and Emcee for a broad variety of national and local organizations such as UNICEF, The School of American Ballet, The Nature Conservancy, NewYork-Presbyterian Hospital, Urban Pathways, Jacobs Pillow, Art Walk, Hedge Funds Care, The Browning School and many others. | |
| Jonathan Jacobs is a staple of the theater and performing arts scene in New York City. As The Vintage DJ, he has headlined events for an array of renowned cultural institutions and companies, including The MacDowell Colony, Citigroup, Brooklyn Museum, Gawker, The Public Theater, Bard Summerscape Festival, The Moth and Swarovski Crystal. He has toured internationally in Europe and Asia and served as the DJ for the 84th Annual Academy Awards Governors Ball in Los Angeles. | |
ERS BOARD OF DIRECTORS

Doug Curtis (Chair)
Steve Bodow (Vice Chair)
Zoe E. Rotter (Vice Chair)
Lucy Mallett (Treasurer)
John Collins (President)
Clay Ballard
David Gilbert
Mindy Goldberg

Fritz Michel
Nicholas Quinn Rosenkranz
Zoe E. Rotter
Greig Sargeant
Bill Stasiulatis
Anne Stringfield
Scott Watson
Robert A. Wilson, Jr.
Gala Supporters

Anna May & Tim Feige

List in formation as of 3/20/2017

Lucy Mallett & Brad Buehring
Proceeds from the gala will support ERS in the development of new plays, the remounting of works from the repertoire, and our educational programs.
For more information about this event or to order tickets, please contact Ariana Smart Truman, ERS Producing Director benefit@elevator.org 212-254-3137