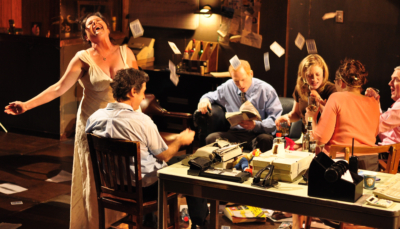 Laurena Allan, Gary Wilmes, Scott Shepherd, Annie McNamara, Kate Scelsa & Vin Knight. Photo by Mark Barton.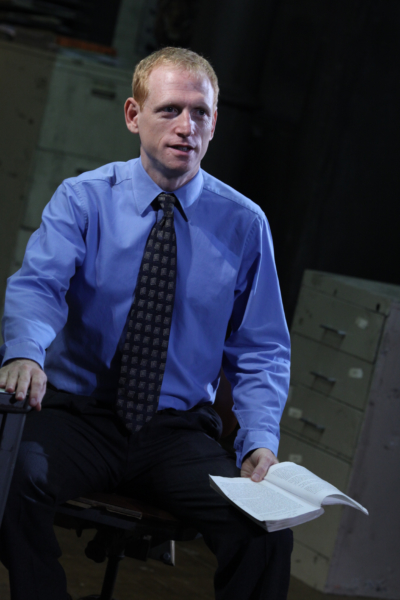 Scott Shepherd. Photo by Paula Court.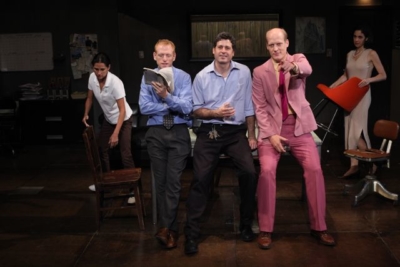 Susie Sokol, Scott Shepherd, Gary Wilmes, Jim Fletcher & Victoria Vazquez. Photo by Paula Court.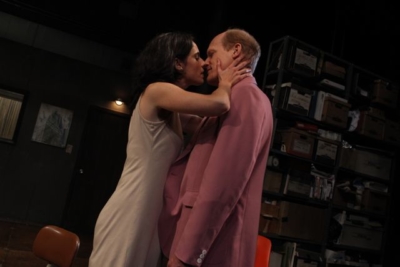 Victoria Vazquez & Jim Fletcher. Photo by Paula Court.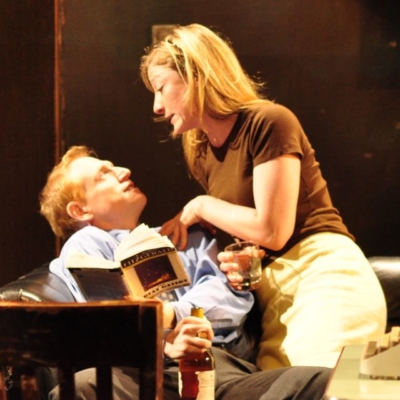 Scott Shepherd & Annie McNamara. Photo by Mark Barton.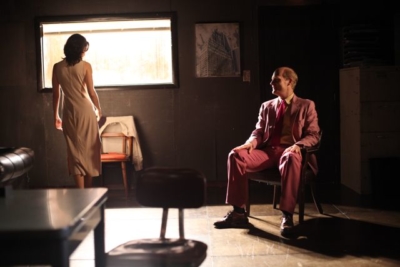 Victoria Vazquez & Jim Fletcher. Photo by Paula Court.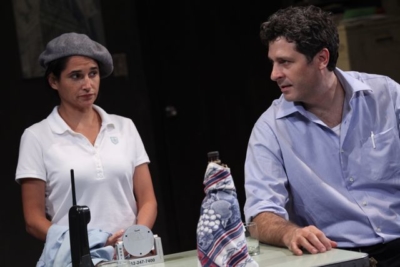 Susie Sokol & Gary Wilmes. Photo by Paula Court.
Gatz
James Gatz — that was really, or at least legally, his name.
One morning in the shabby office of a mysterious small business, an employee finds a copy of The Great Gatsby in the clutter on his desk. He starts to read it out loud and doesn't stop. At first his coworkers hardly notice. But after a series of strange coincidences, it's no longer clear whether he's reading the book or the book is transforming him.
8 hours long and with a cast of 13, Gatz is by far ERS's most ambitious endeavor yet — not a retelling of the Gatsby story but an enactment of the novel itself. Fitzgerald's American masterpiece is delivered word for word, startlingly brought to life by a low-rent office staff in the midst of their inscrutable business operations.
The most remarkable achievement in theater not only of this year but also of this decade.
—Ben Brantley, The New York Times
A strangely seductive, often revelatory, and altogether ingenious production…
—Hedy Weiss, Chicago Sun-Times
…One of the few ovations for which I have unreservedly stood.
—The Independent, London
Press
Ensemble
Nick, Scott Shepherd (also Ben Williams)
Jim, Jim Fletcher
Lucille, Kate Scelsa
Jordan, Susie Sokol (also Sibyl Kempson or Annie McNamara)
Daisy, Victoria Vazquez (also Lucy Taylor)
Tom, Gary Wilmes (also Robert Cucuzza or Ben Williams)
Chester, Vin Knight (also Greig Sargeant or John Collins)
George, Aaron Landsman (also Frank Boyd)
Catherine, Annie McNamara (also Kristen Sieh or Lindsay Hockaday)
Michaelis, Ben Williams (also Matt Tierney)
Myrtle, Laurena Allan
Ewing, Mike Iveson
Henry C. Gatz, Ross Fletcher
Director John Collins
Associate Director Steve Bodow
Set Designer Louisa Thompson
Lighting Designer Mark Barton
Assistant Lighting Designer Dans Maree Sheehan
Sound Designer Ben Williams
Sound Engineer Jason Sebastian
Costume Designer Colleen Werthmann
Assistant Costume Designer Campbell Ringel, Ana Schumacher
Stage Manager/Assistant Director Sarah Hughes
Production Manager B.D. White
Producer Ariana Smart Truman
Company Manager Lindsay Hockaday

Gatz was originally stage managed by Daya Wolterstorff, 2004-2006.

Robert Cucuzza originated the role of Tom, 2004-2007.

Ethan Lipton originated the role of Ewing, 2004-2005.

Paul Boocock, Sue Dennis, Rinne Groff, James Hannaham, Sibyl Kempson, Leah Rudick, Jay Smith, and James Urbaniak contributed to the development of Gatz.