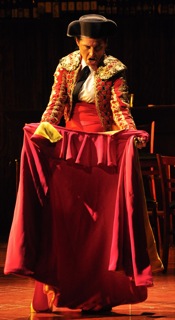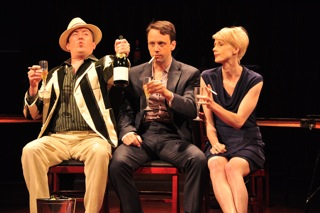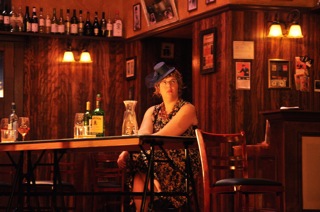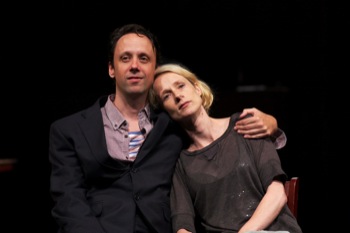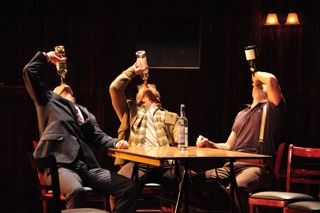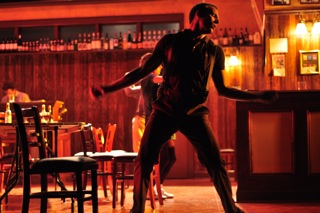 The Select
(The Sun Also Rises)
Based on the novel "The Sun Also Rises" by Ernest Hemingway.
A stage littered with liquor bottles and cafe chairs seamlessly transforms itself from the bistros of Paris to the banks of the Irati River; a long bar table roars to life and charges a champion matador; an out-of-control dance party takes off during a night of nonstop revelry. As the story winds its way through France and Spain and lands in Pamplona where bullfighting and the fiesta rage in the streets, Hemingway's narrator carries the heavy burdens of a war injury and his inability to have the woman he loves; a woman whose amorous escapades he follows with bemused but painful fatalism.
The Select (The Sun Also Rises) is a co-production of ERS and New York Theatre Workshop. It was commissioned by the Ringling International Arts Festival, John and Mable Ringling Museum of Art, Sarasota, FL, in association with the Baryshnikov Arts Center, New York, NY; the Philadelphia Live Arts Festival with funding from The Pew Center for Arts & Heritage through the Philadelphia Theatre Initiative; ArtsEmerson: The World On Stage, Boston, MA; and Festival Theaterformen Hannover/Braunschweig.
Press
Ensemble
Frank Boyd (also Gavin Price)
Mike Iveson
Vin Knight (also Julian Fleisher)
Kate Scelsa
Kaneza Schaal (also Daphne Gaines)
Pete Simpson (also Paul Boocock) 
Susie Sokol
Lucy Taylor (also Stephanie Hayes)
Matt Tierney (also John Collins)
Ben Williams (also Robert M. Johanson)
Created by Elevator Repair Service
Director John Collins
Set and Costumes by David Zinn
Lighting Designer Mark Barton
Sound Design by Matt Tierney and Ben Williams
Additional Costumes by Colleen Werthmann
Associate Lighting Designer Dans Maree Sheehan
Dance and Movement Coach Katherine Profeta
Stage Manager Sarah Hughes (also Maurina Lioce)
Production Manager B.D. White (also Dave Nelson)
Producer Ariana Smart Truman
Sound Engineer Jason Sebastian
Company Manager Lindsay Hockaday