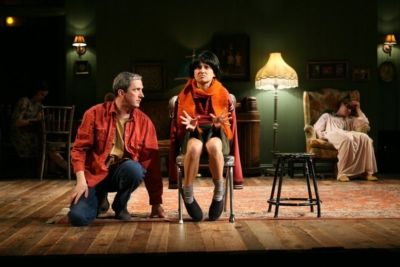 Joan Marcus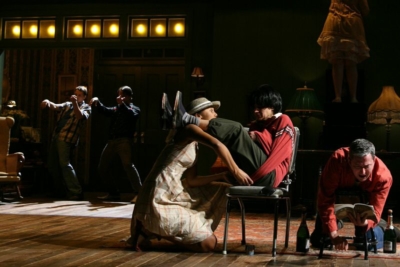 Joan Marcus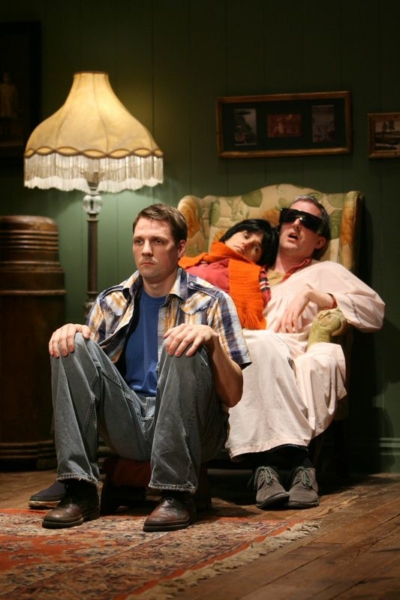 Joan Marcus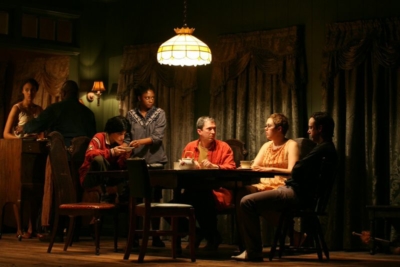 Joan Marcus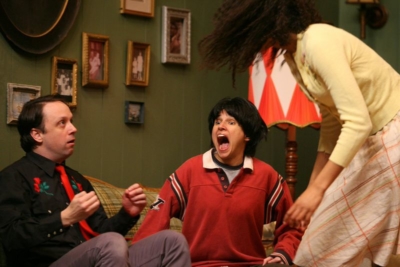 Joan Marcus
The Sound and the Fury
For the second in a trilogy of literary adaptations, ERS takes on one of American literature's most daunting challenges: the first chapter of William Faulkner's The Sound and the Fury. That chapter, known as "the Benjy Chapter," is told from the point of view of the Compson family's youngest son. Mute and mentally handicapped, Benjy cannot distinguish between past and present. In prose that is in turns lyrical and confounding, hilarious and tragic, he free-associates his way through his family's troubled past and longs for his lost sister.
With the same radical commitment ERS showed in its groundbreaking staging of The Great Gatsby, the ensemble embraces Faulkner's language and his multilayered narrative. An eerily timeless family living room is the setting for the company's romp through this dark story. With humor, pathos, high-energy choreography and a wildly versatile ensemble, the company brings this infamous literary masterpiece to life on stage.
Hypnotic … a magical opportunity.
—Ben Brantley, The New York Times
Five stars. A stunning act of literary transmutation.
—David Cote, Time Out New York
…Suffused with an innocence that one rarely glimpses in a contemporary work of art.
—Hilton Als, The New Yorker
Originally presented in New York City by New York Theatre Workshop with the support of Dartmouth College. Support provided by REDCAT (Roy and Edna Disney/CalArts Theater). More Info. 

Press
Ensemble
Daphne Gaines
Rosie Goldensohn
Maggie Hoffman
Mike Iveson
Vin Knight
Aaron Landsman
Randolph Curtis Rand
Greig Sargeant
Kaneza Schaal
Pete Simpson
Susie Sokol
Lucy Taylor
Tory Vazquez
Ben Jalosa Williams
Text William Faulkner
Created by Elevator Repair Service
Director John Collins
Scenic Designer David Zinn
Lighting Designer Mark Barton
Sound Designer Matt Tierney
Costume Designer Colleen Werthmann
Projections by Eva von Schweinitz
Choreography by The ERS Company
Dance Director Katherine Profeta
Produced by Ariana Smart Truman
Production Stage Manager Maurina Lioce
Associate Producer Lindsay Hockaday
Producer Ariana Smart Truman
Produced in 2015 by
Elevator Repair Service
in partnership with
The Public Theater
and
The Lehoczky Escobar Family
Nicholas Quinn Rosenkranz
in association with
Shawn M. Donnelley
David Gilbert
Original production included performers Annie McNamara, April Matthis, and Kate Scelsa and stage manager Sarah Hughes.