Entertainment Weekly
September 24, 2013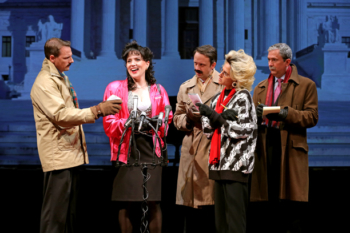 ARGUENDO Ben Williams, Maggie Hoffman, Mike Iveson, Susie Sokol, and Vin Knight. Photo by Joan Marcus
Arguendo
by Thom Geier
Legal motions take on a whole new meaning in Arguendo, the Elevator Repair Service troupe's boisterously entertaining new docu-play running through Oct. 13 at New York City's Public Theater. The subject is a 1991 Supreme Court case that considered an unusual First Amendment issue: whether nude erotic dancing can be considered constitutionally protected speech. In other words, does requiring pasties and g-strings constitute censorship? (Spoiler alert: The Indiana case was decided by the Rehnquist court so you can probably guess the outcome.)
As with previous ERS productions, the bulk of the text in Arguendo is lifted almost verbatim from oral arguments, legal briefs, judicial opinions, and contemporaneous reporting on the case. (The title is Latin, meaning "for the sake of argument.") The New York-based troupe, led by director John Collins, is probably best known for Gatz, a brilliant six-hour-plus version of F. Scott Fitzgerald's The Great Gatsbyretold in an office setting while retaining every word of the classic novel.
Here, the five-person cast assumes multiple roles — from reporters to justices to attorneys for both sides of the argument. The case itself is fascinating, and the justices' proffered hypotheticals are often hilarious. (At one point, Justice Anthony Kennedy imagines an "adults only carwash" that hires strippers to sit in a glass case to attract customers.) The performances are deliberately stylized — Kennedy's queries from the bench are swapped among more than one actor — and they become ever more cartoonish by the show's climax, a virtual dance-off that culminates in the shedding of briefs (legal and otherwise). Call it a Strip Too Bountiful.
If the performances sometimes seem overly broad, perhaps that's appropriate to recount a legal case that can seem preposterous on its face. There's not much subtlety here, and an unfortunate epilogue noting how Chief Justice Rehnquist added yellow stripes to the arms of his court robe after watching an amateur theatrical production seems like a cheap shot that's also completely beside the point. Even so,Arguendo offers a spirited defense of free expression that is as heartfelt as it is silly.
Read the original article here.