Wall Street Journal
October 7, 2013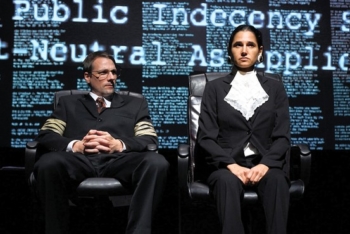 Ben Williams and Susie Sokol in a scene from Elevator Repair Service's 'Arguendo' at the Public Theater. Photo by Rob Strong.
Faith in the Audience
by Lizzie Simon
Rachel Chavkin directed "Natasha, Pierre and the Great Comet of 1812," which premiered at Ars Nova and is continuing its commercial run at Kazino. She is a co-founder of the award-winning Brooklyn ensemble the TEAM, whose new production, "RoosevElvis," begins previews at the Bushwick Starr on Tuesday. She opted to see Elevator Repair Service's "Arguendo," directed by John Collins at the Public Theater.
Legalese is the primary language spoken in "Arguendo," which addresses "Barnes v. Glen Theatre," the 1991 Supreme Court case challenging Indiana's nudity ban. It's a language in which Ms. Chavkin, the daughter of two civil-rights attorneys, is fairly fluent.
She's also fluent in Elevator Repair Service's theatrical vocabulary, which combines video, borrowed text, dance (by people who aren't trained in dance) and a meshing of intellectual history with absurdity. "I've tried to see everything they've done since I first moved to the city as an NYU student," she said. "They're hugely inspirational to me."
Elevator Repair Service and Ms. Chavkin's ensemble, the TEAM, both depart from the traditional play-making model with their collaborative approach, which alters the rehearsal process and the power structure therein. "Everyone is functioning as a generator of material," she said.
In "Arguendo," performers Maggie Hoffman, Mike Iveson, Vin Knight, Susie Sokol and Ben Williams have created the show with director John Collins and play multiple roles as justices, attorneys, reporters and dancers. Together they make a kind of joyful chaos, using verbatim discussions from court transcripts on a range of unlikely legal topics: Does the First Amendment protect dance as speech? If so, does stripping constitute dance? And if so, does enforcing the use of g-strings and pasties infringe on a performer's free speech?
The real coup, Ms. Chavkin said, is that they honored the original material while subverting it. "It captures not just the justices' original intentions but also captures the context, the absurdity of talking about stripping in the highest, most formal forum in the country," she said. "They are meeting their source material. They aren't just mocking it. They're manifesting it so that you can see it."
Ultimately "Arguendo" threw down the gauntlet for Ms. Chavkin, who is in the final stages of rehearsals for "RoosevElvis." "The desire to try and engage with ideas, and historical texts, and personal mythology, and national mythology—that ambition, conceptually, is thrilling," she said.
In "RoosevElvis," we meet Ann (Libby King), a lonely 35-year-old meat-processing worker in South Dakota struggling in the morass of gender identity. In search of self, she sets out on a road trip from the Badlands to Graceland with an unusual set of spirit guides, Theodore Roosevelt and Elvis Presley. TEAM members worked on physical and verbal improvisations, or, as Ms. Chavkin called it, "writing on our feet."
They sometimes sat in a circle, each on their individual computers, writing the same scene, with arguments to follow about which worked best. They conducted research about Roosevelt and Presley and borrowed material as they saw fit. As the company's director, Ms. Chavkin served as "the final decider," she said. "I'm not satisfied fully in the theater unless it speaks to my brain as much as my heart."
"Arguendo" had been more than merely satisfying. Elevator Repair Service, she said, had the imagination and the intellect to blend court transcript legalese with their signature theatrical vocabulary, and assumed their audience would keep up. The play, she added, "has faith that its audience will be at least half as smart as it is."
Read the original article here.